I love Epcot for many reasons: for what it was supposed to be in Walt's original plans, for what it later became, for being the door to many cultures, and for its food. So last year, on the last day of my last trip (a very hot January day, what's with the Bay Lake and Orlando weather in winter?), I set one goal: try something from every country, it could be food or drink, but no country could be left behind. With that in mind, I went Eating and Drinking Around the World at EPCOT.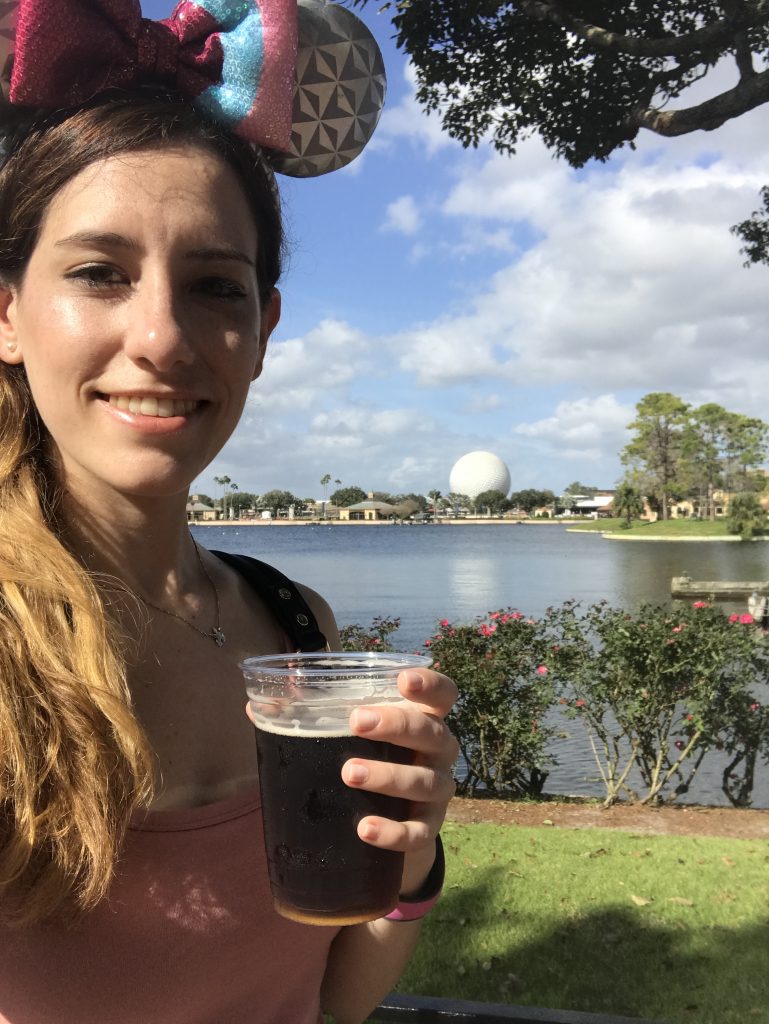 Note: I didn't eat everything by myself, I was with my dad and sister. In order to be able to eat everything, we tried ordering small dishes from Quick-Service Restaurants to sample the food and also, to fit the trip's budget. We also took breaks to go to attractions and digest the food 🙂
We began eating in Mexico (because you ALWAYS start left at World Showcase, right? 😉 ) at around 12 pm. We had some chicken tacos ($14.25), some empanadas ($13.50), and Jarritos (the traditional Mexican soda for $4.25 each) from La Cantina de San Angel. After that, we went to the Mexico Folk Art Gallery inside the pyramid.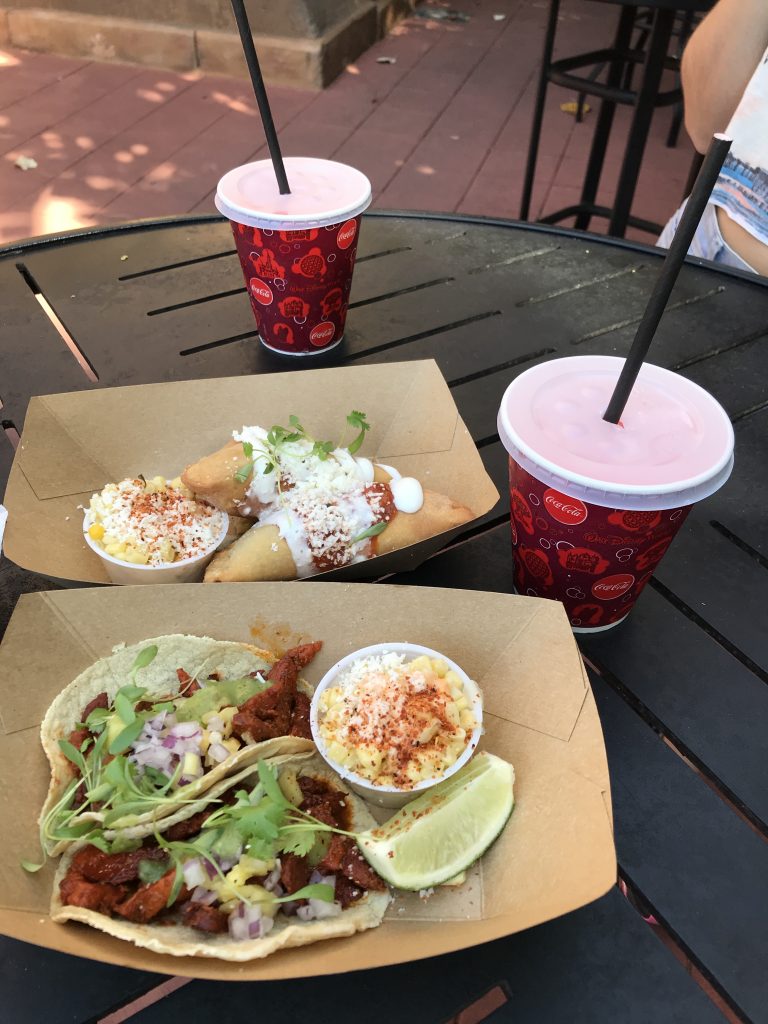 We moved on to Norway, where we stopped at the Beet Cart to have an Einstök White Ale ($10) and use our FastPass+ for Frozen Ever After (right on time).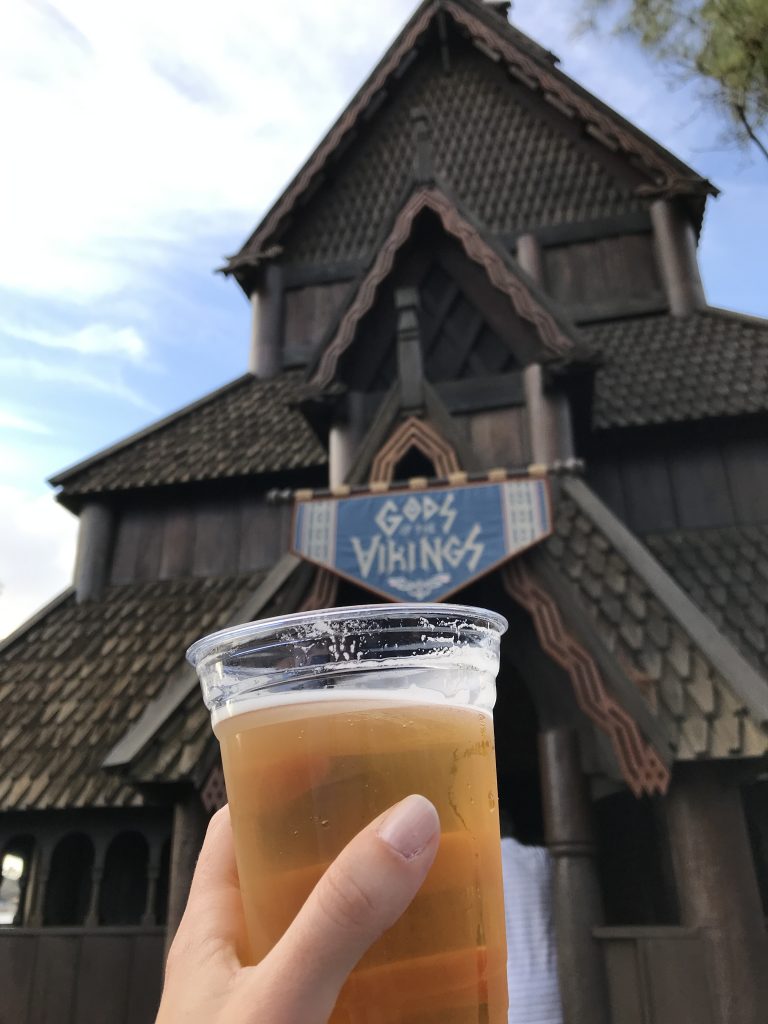 China was our next destination and here we sampled some Pork & Vegetable Egg Rolls from Lotus Blossom Café for $3.99. We weren't that hungry so, we needed something small that would let us continue walking without falling asleep.
After China, we skipped two countries and went to the American Adventure to eat a Jumbo Turkey Leg from Fife and Drum Tavern for $13.25. This was quite difficult to finish so it was great that we were three people. Of course, we needed something to drink so we headed to Germany to have a Warsteiner Dunkel for $9.50.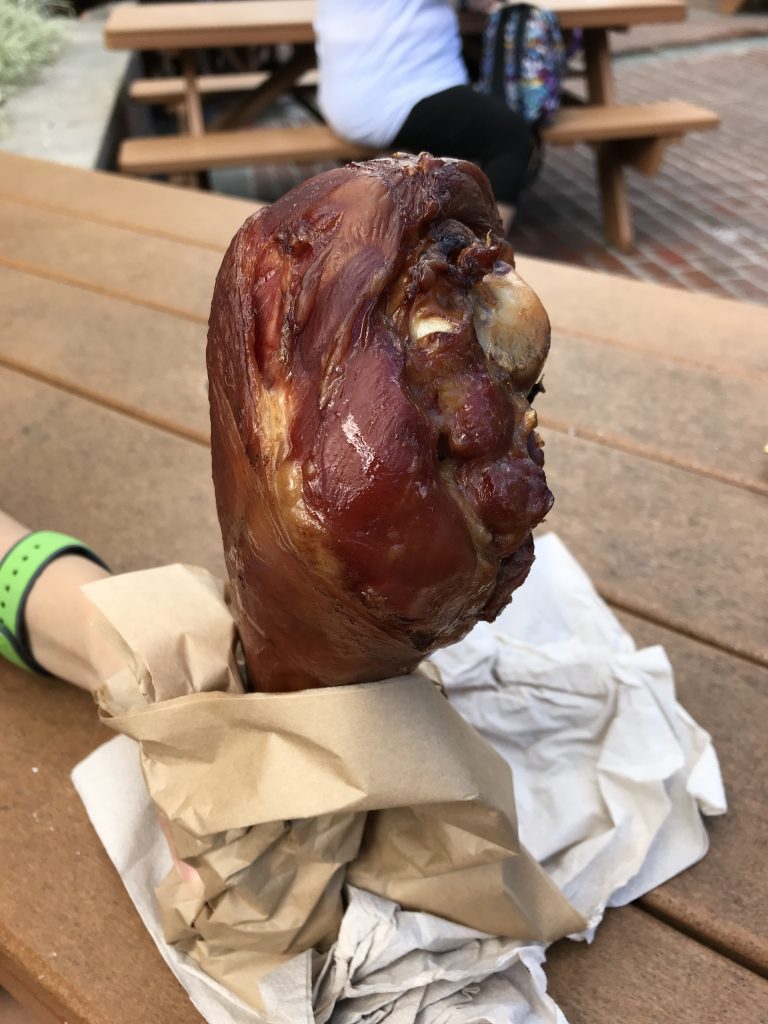 Because we needed some rest from eating, we went to Japan and visited the shops and the Bijutsu-kan Gallery. After that, we grabbed some sushi from Katsura Grill for $9.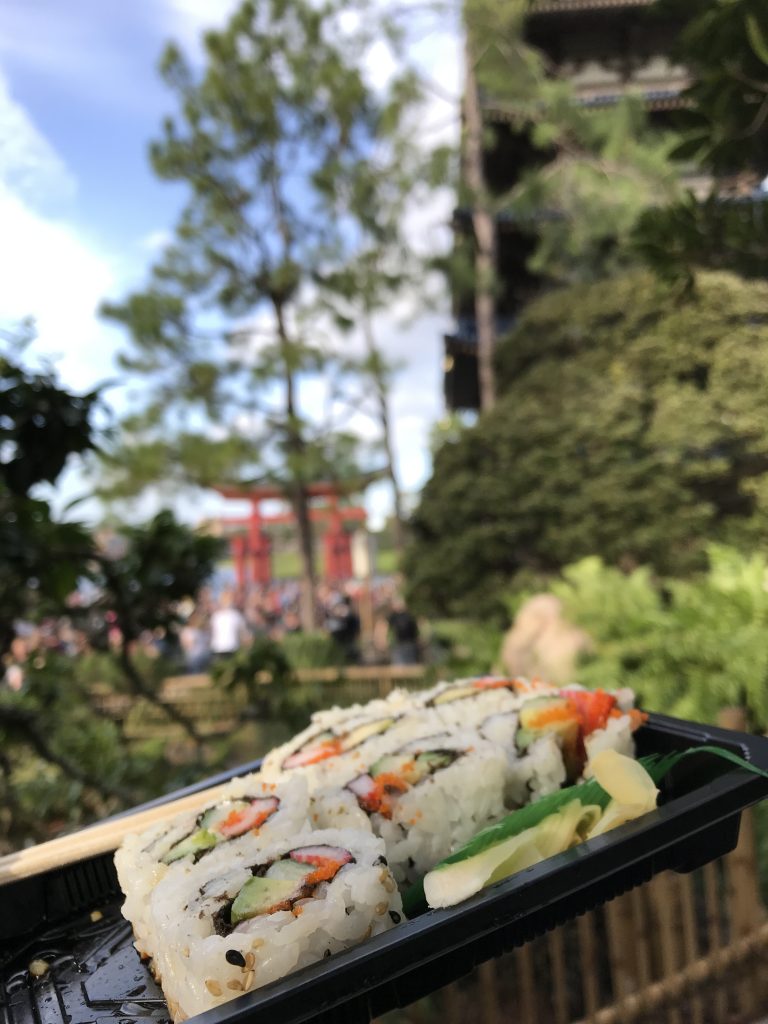 We continued walking until we reached Morocco and here is where it got a bit complicated because all entreés were rather large plates, and our stomaches were rather full. So we went in for Tabbouleh, a Moroccan salad that was, in my opion, quite tasty (if you like parsley). We had that at Tangierine Café for $5.95.
And here comes my favorite pavilion, where I find my favorite food: the United Kingdom. A must-have, whether you go to the fake UK at EPCOT or the real UK: fish and chips. We ate at around 5 pm at Yorkshire County Fish Shop. The dish was $11.49 and included two large pieces of battered fish and one of the best chips I've had in all of Walt Disney World.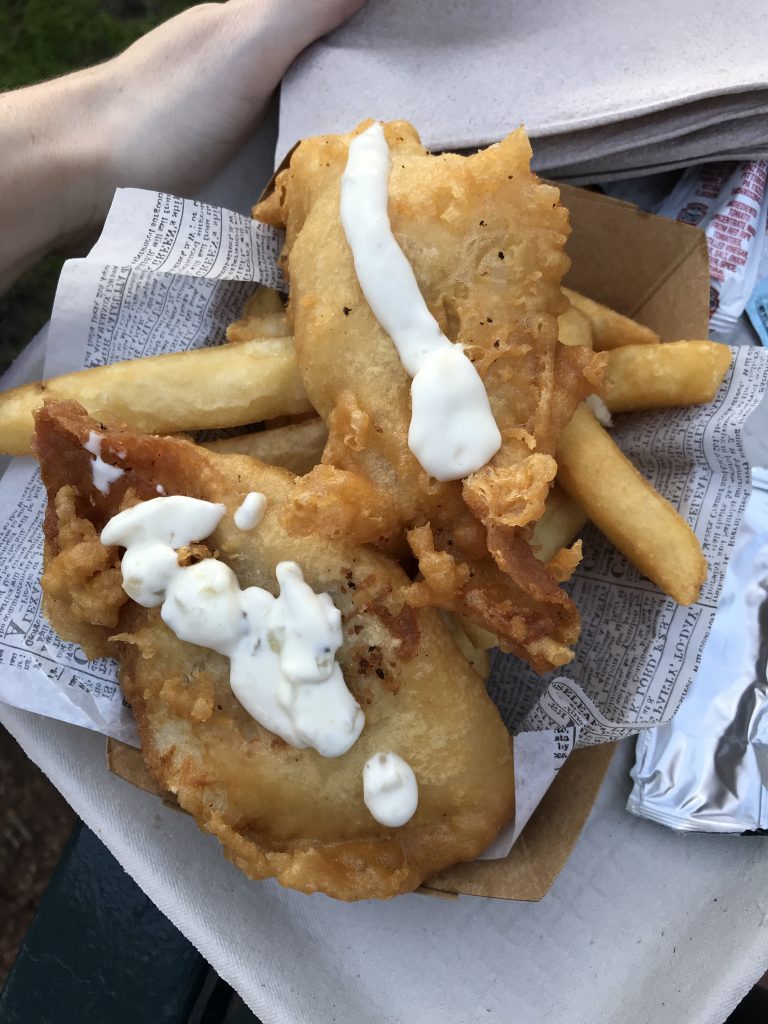 This is when we decided to stop eating for a while and start digesting everything we'd had throughout the day – and we still had 3 more countries to go to! We headed to Future World to do some attractions and we decided to go back to World Showcase at night for something sweet.
As we returned, we bought some popcorn from the Canada popcorn cart (I don't have a picture because since we actually didn't eat it at the park, we saved it for after the fireworks, we put it away immediately and then I forget to take a photo 🙁 )
Desperate for something sweet, we headed to France for a Crêpe with Chocolate. We bought this at Crepes des Chefs de France for $5.50 and we ate it while drinking a cappuccino from Italy ($5).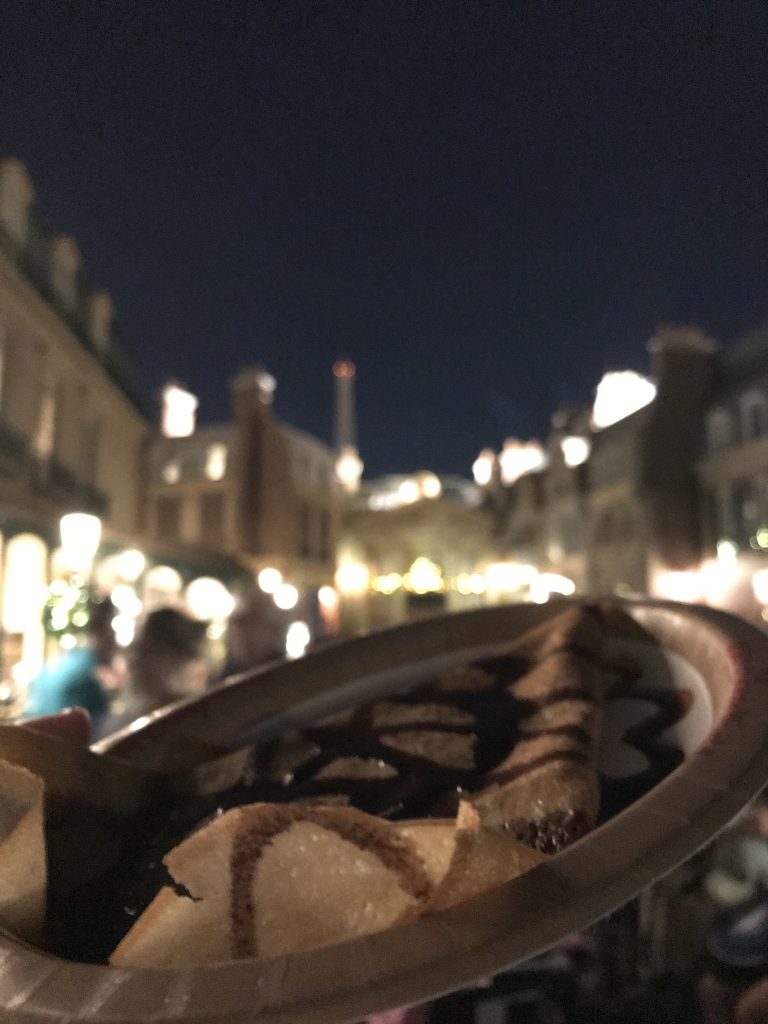 Even though we ate from Quick Service restaurants, Eating and Drinking Around the World at Epcot turned out to be quite pricey because we never have that amount of food in one day (we usually save a lot of money on food when we travel). Buuuuut, it was an awesome experience! We had a lot of fun trying the dishes, drinking some beer (limited alcohol consumption, of course), and exploring the countries as we walked by. I totally recommend it if you don't find Epcot a lot of fun. It isn't my case because I love it, but trust me, this will change your view of this park and you'll discover everything it offers… and more!