We can't control the weather and we might have to go to the parks on rainy days. I'd usually recommend skipping parks during the rain only if possible, but usually, most guests don't have extra days, or it suddenly starts raining (very common in the Bay Lake area) when you're already there. It'd be a waste of a ticket to leave and not come back, but many people leave the parks, which means there's more room for those who stay and fewer wait times. It's super important to have a backup plan for inclement weather, whether it messes with your itinerary. In that way, you'll be prepared for everything! So get your poncho and your umbrella, and find out what to do in Magic Kingdom on a rainy day.
WHAT TO DO IN TOMORROWLAND
Space Mountain
Buzz Lightyear's Space Ranger Spin
Monsters, Inc. Laugh Floor
Carousel of Progress
PeopleMover
Tomorrowland is the place for indoor attractions. It goes without saying that on a rainy day, Space Mountain will have large crowds because all other rollercoasters are outdoors. If you see that the rain will extend throughout the day, leave Space Mountain for the end right before the park closes – lines will be shorter then! As for the PeopleMover, this ride has just reopened after more than a year (so expect long lines, until the frenzy vanishes). Monsters, Inc Laugh Floor has been temporarily closed for quite some time (rumors indicate that the attraction could close for good. The Carousel of Progress and Buzz Lightyear's Space Ranger Spin are up and running and they are well worth visiting on a rainy day in Magic Kingdom.
WHAT TO DO IN FANTASYLAND
Peter Pan's Flight
The Many Adventures of Winnie the Pooh
Mickey's Philharmagic
it's a small world
Under the Sea – Journey of the Little Mermaid
From this list, Mickey's Philharmagic is my favorite: rain or no rain! It's a super cute attraction that kids and adults enjoy so much. Peter Pan's Flight is also nice, but the lines are usually so long. However, since it's the ride for little kids, many families leave during the rain and this makes the wait time go down for the ones who stay. Winnie the Pooh and the Haunted Mansion attractions are also a great refuge to wait until the rain stops. And of course, you can't miss it's a small world, the classic indoor boat ride with that catchy song that you might end up hating.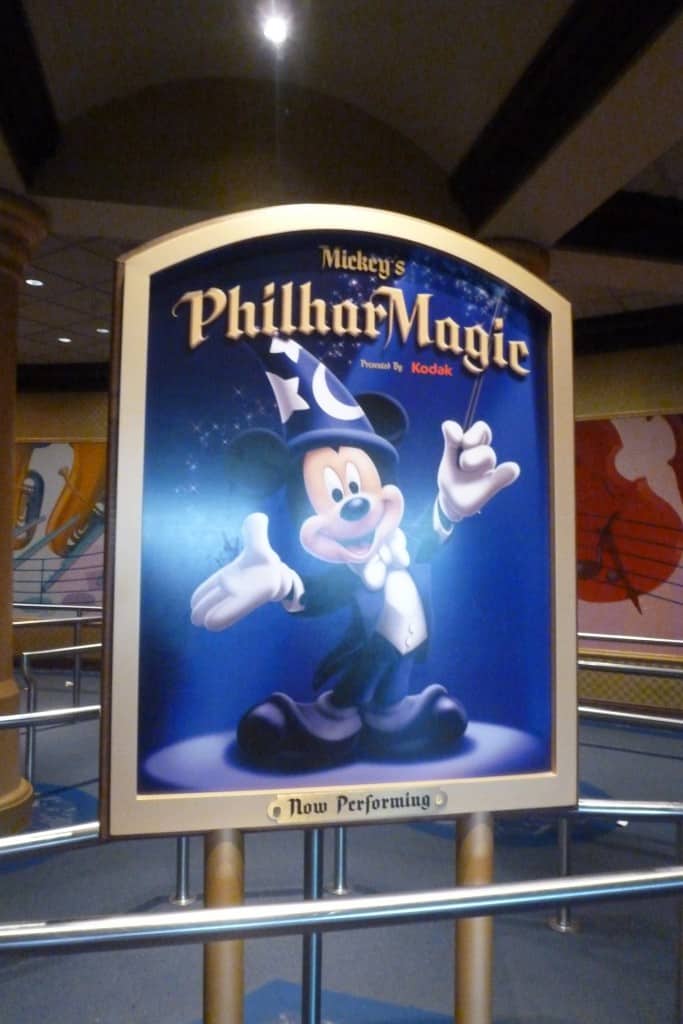 WHAT TO DO IN LIBERTY SQUARE
Haunted Mansion
The Hall of Presidents
Haunted Mansion is definitely a must in Magic Kingdom on a rainy day. It's a classic, it's fun and it will give you shelter. Plus, you can stop by Memento Mori after the ride and get a nice attraction souvenir 🙂 Unfortunately, the Hall of Presidents is closed for refurbishment, but once it opens again, you'll have 25 minutes of an indoor attraction.
WHAT TO DO IN ADVENTURELAND
Pirates of the Caribbean
Enchanted Tiki Room
What goes incredibly well with a rainy day? That characteristic humid scent from Pirates of the Caribbean. It's iconic and you can't miss it! And if it's iconic and waterproof what you're looking for, then the Enchanted Tiki Room is well worth a visit. I promise you'll have so much fun you'll forget it's raining out there.
WHAT TO DO IN FRONTIERLAND
Say goodbye to most attractions in Frontierland because the only thing for you to do here is going to Bear Country Jamboree. I'm not really a fan, so I'd only recommend Bear Country Jamboree if you've done all the other attractions. But it's definitely up to you – many people love Bear Country Jamboree.
Did you find this useful for your trip? Do you have any other rainy day tips? Share in the comments!