You can feel that organizing your FastPass+ choices is rocket science sometimes, but let me tell you that you can actually work it out. All it takes is a bit of research, plan your days at the parks, and book your FastPass+ picks in time. So I'm going to walk you through this process and I'll also cover some of the changes that came to the FastPass+ options with Galaxy's Edge opening in August 2019 at Hollywood Studios. Read all about FastPass+ and how to get the rides and attractions you want!
Choosing your FastPass+ selections is a HUGE part of planning your Disney World trip. I always recommend doing it in advance and being strategic about the rides and attractions you pick. I'll give you some advice on what FastPass+ to select in just a moment but first, let's cover the basics:
What is FastPass+?
Let's put it simply. FastPass+ (or FP+) is a service provided by Disney that allows you book access to certain attractions, rides, and shows in advanced. How awesome is that?
Is FastPass+ free?
Yes! FastPass+ is a complimentary service for all Disney World ticket holders.
When can I start booking my FastPass+?
If you are staying at a Disney Resort hotel, you can select your FP+ 60 days prior to your check-in date. Staying off-site? Not a problem! Your FastPass+ window opens 30 days prior to your visit.
How do I book my FastPass+ choices?
You'll have to access through MyDisneyExperience on the Disney World official website or through the app. Remember to sign in to your account and have your tickets linked to that account. If you buy your tickets on the same day you go to the parks or just don't have smartphones, you can use the FP+ Kiosks located at the parks. Recommendation: always buy tickets in advance if you want to be able to get some FastPasses for your favorite rides and attractions!
How many FastPass+ can I choose?
You can select up to 3 initial FastPass+ choices per day with a single-day park ticket. After you have used that set of FastPass+ at the park, you can select another FastPass+ pick. After you redeem that additional FP+ selection you can keep on making more FP+ choices, one at a time.
What happens if I have a Park Hopper ticket?
The system does not change if you got a Park Hopper option in your ticket. You make your 3 FastPass+ selections for the first park you'll visit that day and then you can continue to make FastPass+ choices, one at a time, at the other parks you go.
Do all rides and attractions have the FastPass+ option?
Moment of truth: no. But don't worry, the most popular attractions have FP+ and that is just great 🙂 What you need to know here is that Hollywood Studios, Animal Kingdom and Epcot operate differently from Magic Kingdom in terms of FP+ categories. What does this mean? The first 3 parks have a first group of rides from which you can only pick one FP+, and a second group from where you choose the other two remaining FP+ selections. Magic Kingdom has just one big group that includes all rides.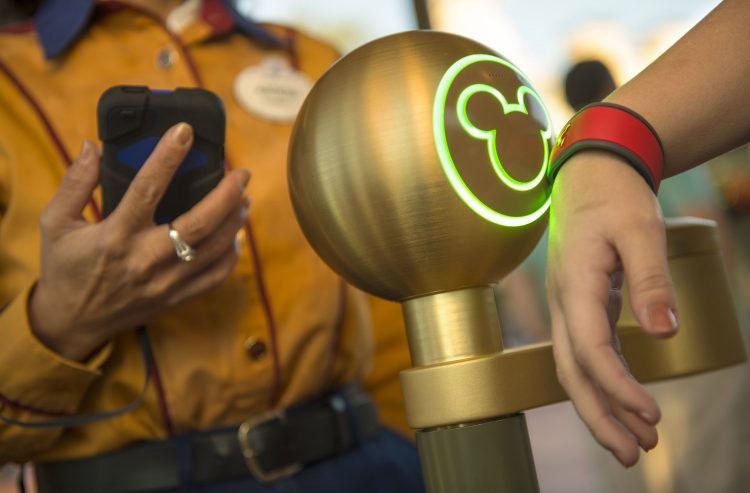 How do I show my FastPass+ at the parks?
Your FastPass+ selections are stored in your MagicBands or in your park ticket. You have a one-window to show up at your ride and redeem your FP+. What you need to do it is place your MagicBand or park ticket against the Mickey posts outside the attraction, and when the Mickey turns green, you're good to go inside.
Can I book FP+ for everyone at my party?
Yes! You can make selections for everyone from theMyDisneyExperience app or website. And not necessarily for the same attraction. This means that while some have FP+ for Test Track, for example, others may have FP+ for Frozen Ever After.
So how can I choose the best FastPass+ options?
You can download the complete list of rides, shows, and attractions with FP+ here – it's for free 🙂 , but I'll provide a list of the attractions that are absolutely worth getting a FP+ for and which I highly recommend:
Magic Kingdom
Big Thunder Mountain Railroad
Splash Mountain
Space Mountain
Seven Dwarfs Mine Train
Peter Pan's Flight
Epcot
Frozen Ever After (Tier 1)
Soarin' (Tier 1)
Test Track (Tier 1)
Mission: Space (Tier 2)
Spaceship Earth (Tier 2)
Hollywood Studios
Slinky Dog Dash (Tier 1)
Alien Swirling Saucers (Tier 1)
Toy Story Mania (Tier 1)
Rock 'n' Roller Coaster (Tier 1)
Tower of Terror (Tier 1)
Starting on August 29, 2019, Rock 'n' Roller Coaster and Tower of Terror were included on Tier 1 together with Slinky Dog Dash, Alien Swirling Saucers and Toy Story Mania. Insane, right? You'll now be able to pick only ONE of these five super busy attractions. Disney is doing this to manage crowds at Star Wars Galaxy's Edge. Millenium Falcon: Smugglers' Run and Rise of the Resistance (the latter opening on Decemeber 5, 2019) do not offer FastPass+.
Animal Kingdom
Flight of Passage (Tier 1)
Na'vi River Journey (Tier 1)
Expedition Everest (Tier 2)
Kali River Rapids (Tier 2) – only in warm weather conditions
Kilimanjaro Safaris (Tier 2)
Meet Disney Pals at Adventurers Outpost (Tier 2)
Remember that these are highly popular rides and attractions, for which FP+ runs out immediately, but they may not be of your like, if for example, you don't like fast rides, such as Rock 'n' Roller Coaster or Space Mountain, or you're not into meeting characters.
Is there a strategy to have the FastPass+ I want?
Actually… there is 😉 I wouldn't call it a strategy but more of strategic tips:
The sooner the better: if you manage to have the 60-day window or even the 30-day, chances are you will snatch your top FP+ choices. And you should get up suuuuuper early that day and select your FP+ choices.
Midday/early afternoon is the best time for your FP+ selections: this gives you time to arrive early at the park and do many attractions with short wait times, and also grab individual FP+ after the first three, with plenty of time on that day.
Your third FP+ choice should not be in the evening: this is because you won't be able to get any FastPass+ after that time. You would have to wait until night to use that last FP+ and after that, the park closes and no more FP+ choices for you, my friend.
Sometimes the best FastPass+ choices appear a few days before your visit: I know I said the sooner the better, buuuut, in the days prior to their stay, visitors tend to change their FP+ a lot and many of the good ones pop up like magic (maybe not for Slinky Dog Dash but I did manage to get Flight of Passage this way), so it's good to keep an eye open for these. Even same-day FP+ are a reality!