With Halloween just one day ahead, I made some very easy Disney pumpkin and vanilla cupcakes for Halloween that you will love. I decided to share this super simple recipe that you can make at home and not miss those incredible Disney World cupcakes that we all crave for when we return home. I'm not a decoration expert (as you can see from the photos), but I can assure you that I nailed the flavors and textures 🙂 Are you ready to bake?
I'm not a huge fan of Halloween but I love cooking and cupcakes are one of my favorite things to bake. You can decorate them with the design you want, but since I'm really into Halloween I just made them Mickey-themed with Oreos and sprinkles, which is super easy!
Ingredients (for 12 cupcakes)
Some clarifications are in order: I have all my recipes in the metric system because that's what we use in my country, but you can easily convert it with an online convertor (https://bakingcalculators.com/, https://goodcalculators.com/cooking-conversion-calculator/)
95 gr all-purpose flour
115 gr self-rising flour
2 eggs
100g butter at room temperature
220 gr granulated sugar
1 tsp vanilla extract
125 ml milk
150g of pumpkin puré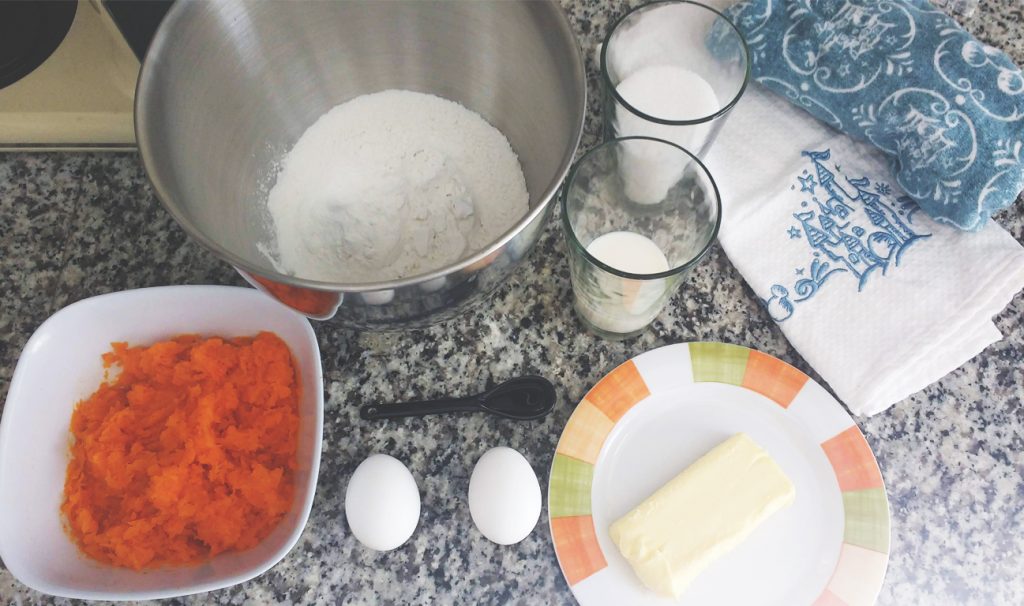 Instructions
Preheat oven at 180°C (356 F°)
Line a muffin pan with paper liners and set aside.
Cream the flours, sugar and butter in an electric mixer bowl at medium-high speed for about 4 minutes. Make sure all the ingredients are well combined.
Add the eggs, one by one. allowing for each one to fully incorporate after each addition. Scrape the sides of the bowl after each addition.
Add the milk and vanilla extract. Keep mixing for another minute.
Add the pumpkin puré and continue mixing until these two ingredients are well combined (for about 2 minutes).
Scrape the sides of the bowl again to make sure all the ingredients are mixed together.
Fill the cupcake liners 3/4 full.
Bake for 20 minutes. A good tip to check if they are ready is to stick a toothpick in the middle of the cupcake; if it comes out clean, then the cupcake is ready 🙂
Allow cupcakes to cool for about 15/20 minutes before you start decorating them.
For the buttercream icing
100 gr butter at room temperature
450 gr confectioner's sugar
3 tablespoons milk
1 teaspoon vanilla extract
Put the butter, the confectioner's sugar and milk in an electric mixer bowl and mix at medium-high speed for about 2 minutes.
Add the vanilla extract and mix for another minute until it is well integrated. Make sure the icing is creamy enough.
Add some food coloring to the mix.
Put into a piping bag (I use the plastic ones); cut off the tip of the bag and start decorating.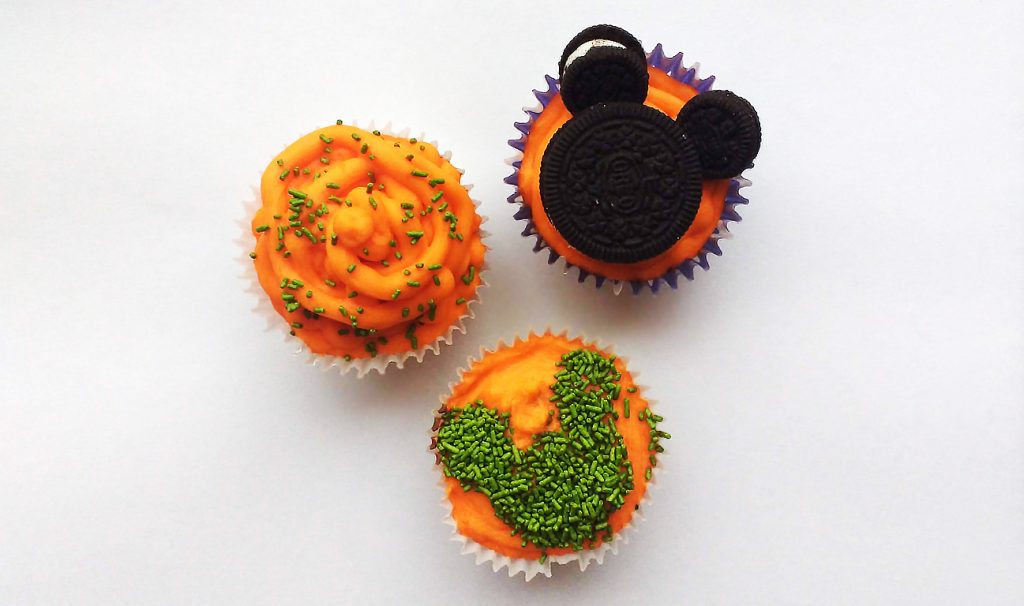 Will you try this recipe? If you do, please let me know in the comments 🙂