This year I made a quick 4-day trip to Disney World and stayed at Disney's All-Star Sports Resort. We traveled from New York, so obviously we had to think of a cheap option but always on site because it was my boyfriend's first time at Disney 🙂 We actually got a Special Offer: Gift of Magic Room, so it was actually quite convenient. Like all the other All-Star resorts, Sports is full of Disney magic, but in need of refurbishment because it does look rather old (I would say… VERY 90ish style), yet clean and charming. On this review, I will show some cool pictures of the hotel, my opinion on the room rates, and some food and shop options inside the resort.
GENERAL
Disney's All-Star Sports Resort was the first All-Star hotel to open in April 1994. Located in the Animal Kingdom area, this resort is inspired by different sports that provide the theme for the 5 sections in the resort: Touchdown!, Center Court, Home Run Hotel, Surfs Up!, Hoops Hotel.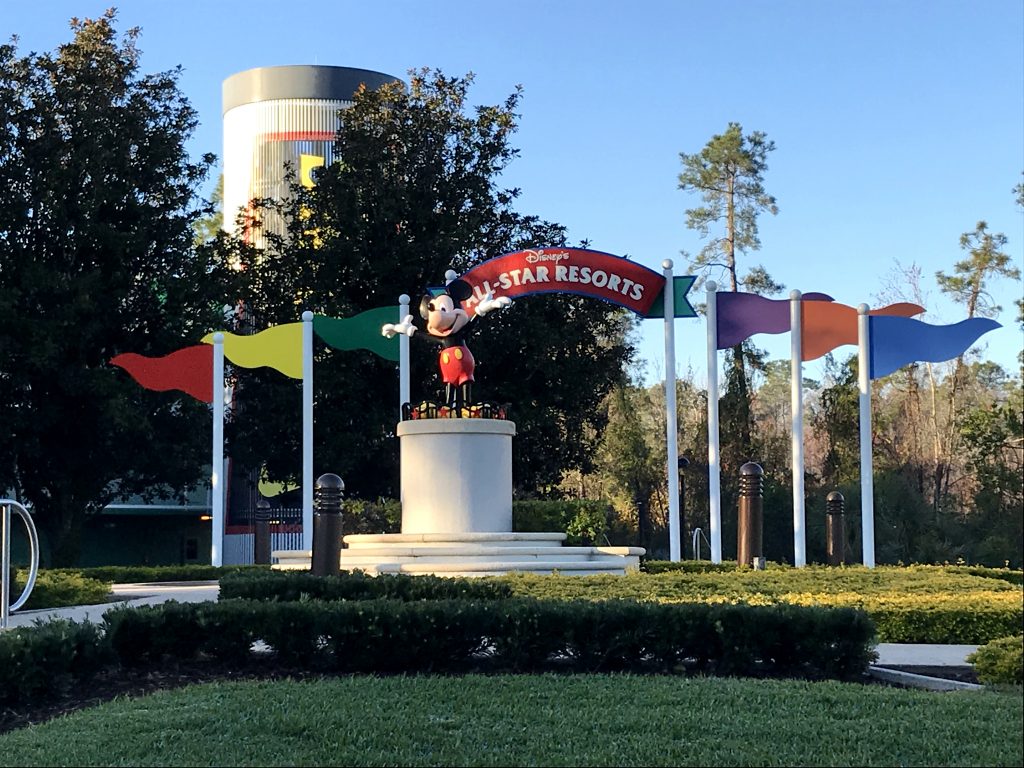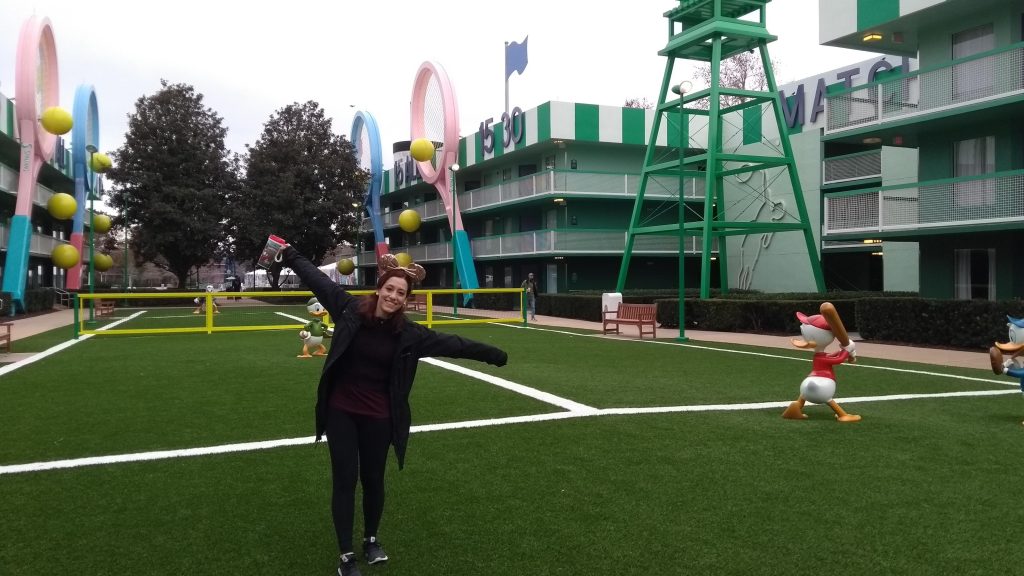 ROOMS
We got to stay at the Hoops Hotel and I couldn't be any more excited given that basketball is my favourite sport. Like the other All-Star resorts, each building is thematically decorated. The Hoops building is a bit far from the main hall, but it's right in the centre of the hotel, so we didn't feel we had to walk as much as if we had to stay at the Centre Court.
All the rooms at the All-Star resorts used to be pretty much the same inside, with a greenish/yellowish paint tone and different wallpaper according to the theme of the hotel. As you may know, all value resorts (except for Disney's Art of Animation) have been/are being/will be refurbished. All-Star Sports hasn't started its remodelling yet, but it's likely that when it does, the rooms will have the same look as the new ones in Pop Century's Resort and All-Star Movies: much more modern, painted white with some colored details on the walls.
The rooms at Disney's All-Star Sports can accommodate up to 4 people in two double beds. Each room has a table with a couple of chairs, a TV, a phone, and a small fridge. The bathroom area has a sink and mirror, with a separate room for the bathtub and the toilet. In addition, you can find a hairdryer, a safe, and an ironing board. We were just the two of us and they still gave us a room with two beds and it was heaven 🙂 The only negative thing about the room was a tiny problem with the central heating, but a cast member fixed it as soon as we told them!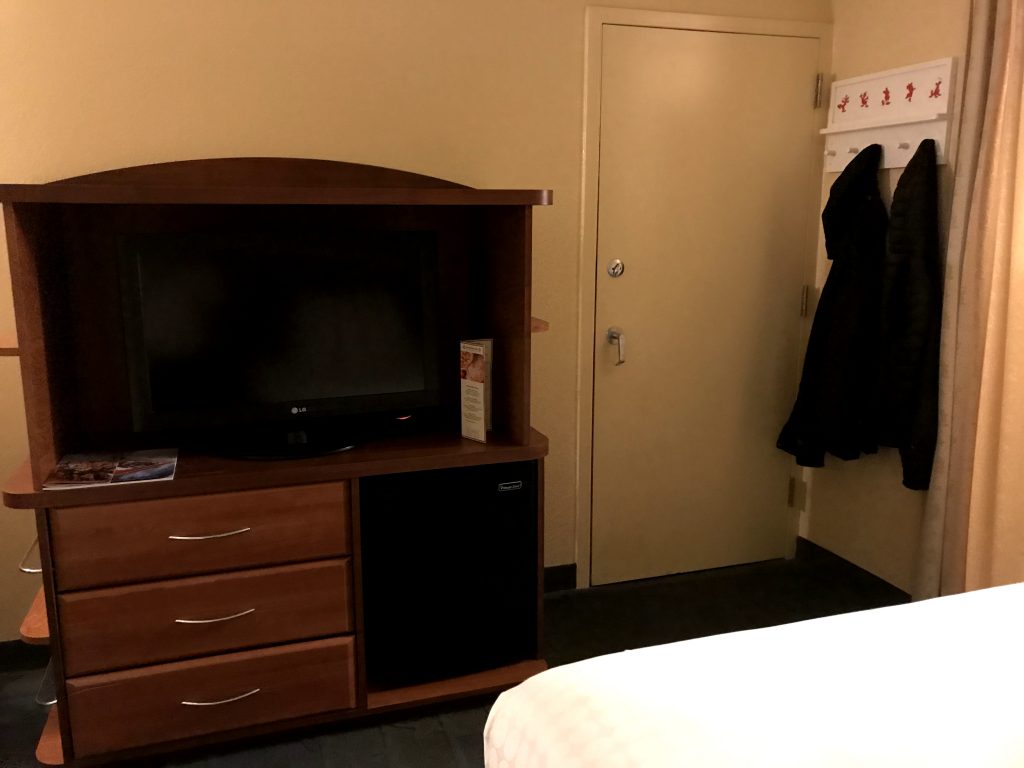 FOOD AND SHOPPING
If there's one thing I totally enjoy at Disney hotels is the food. I felt that the All-Star Sports resort actually had a great variety of delicious things to eat. Of course, I still think that Pop and Art of Animation have better food, but Sports had plenty of choices. I always have breakfast at the hotel and dinner too, and they were perfect. The End Zone Food Court actually offers great stuff. Some nights we actually took our dinner back to the room because the food court was really crowded, but the guys at the counter gave us everything we needed to pack our food and bring to to the room all warm.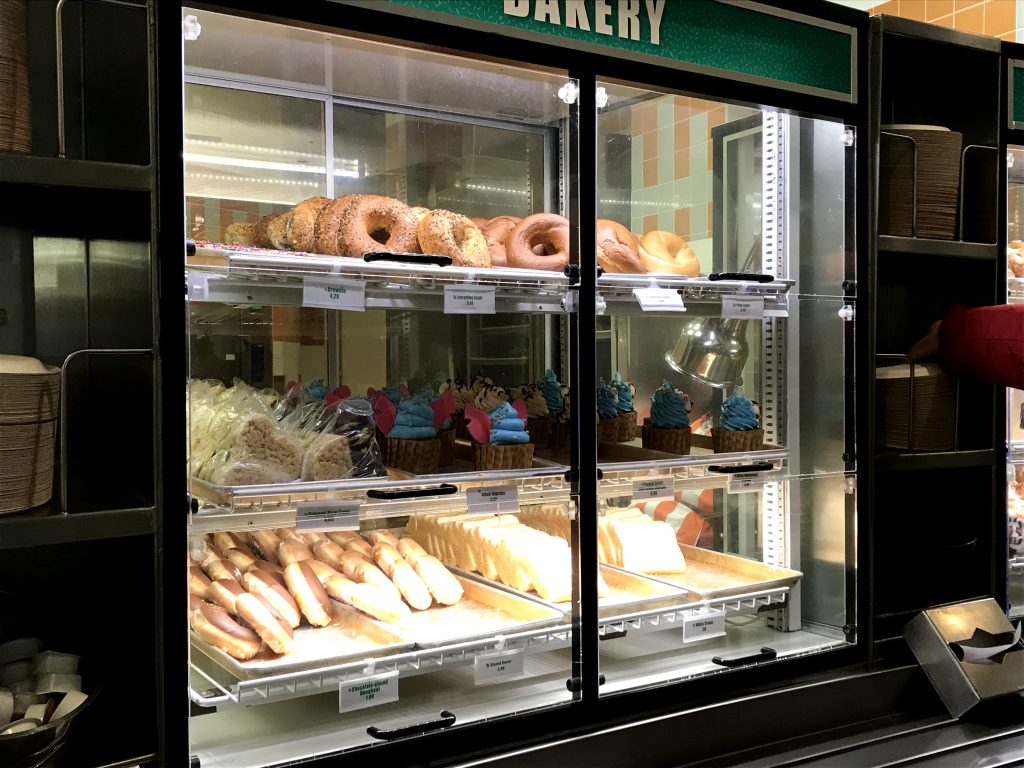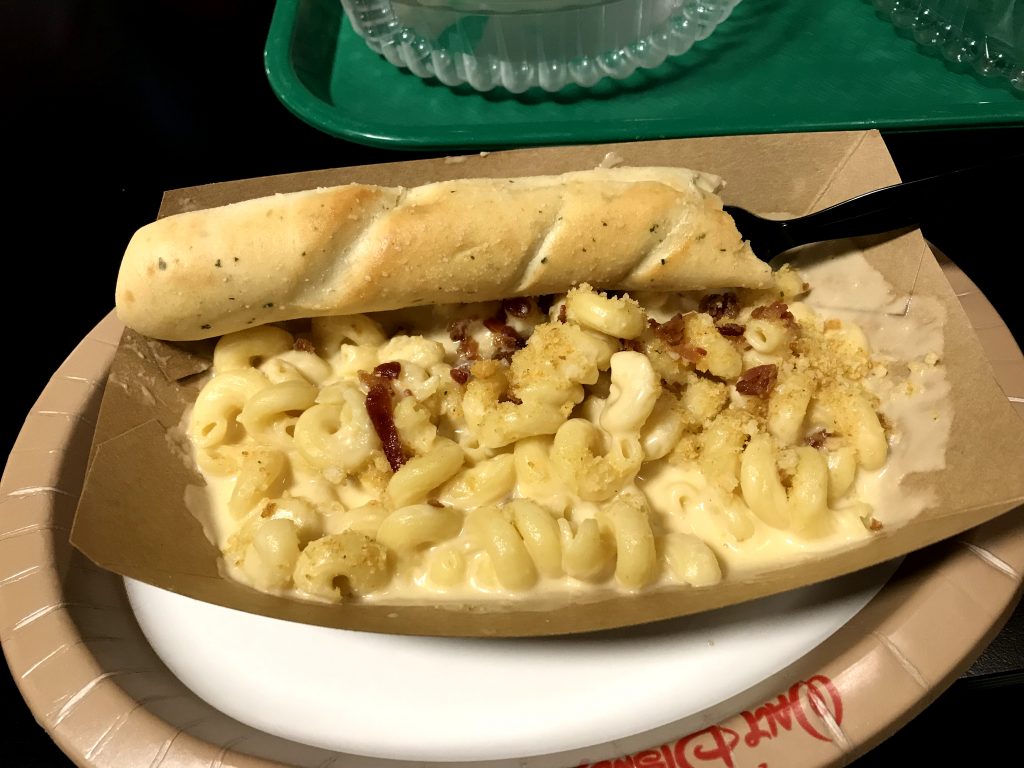 As for shopping, you can buy some souvenirs or other Disney merch inside Sport Goofy. What I really liked is that they sell ESPN merch at the gift shop with no need to go to ESPN Wide World of Sports. You can do your shopping at Sport Goofy Gifts and Sundries, which is the gift shop inside the Stadium Hall. And like in all other Resort gift shops, the one at Disney's All-Star Sports Resort offers the standard Disney Parks merchandising and, of course, some specific merch from the All-Star hotels.
ENTERTAINMENT & AMENITIES
Like in all other Value Resorts, Disney's All-Star Sports offers Movies Under the Stars, a playground, the Game Point Arcade, a jogging trail, and two pools. The Disney Magical Express is the complimentary transportation to and from Orlando International Aiport and there's bus transportation to and from the parks. The only problem here is that the All-Star resorts share the same bus from the parks to the hotel, so they are usually really crowded and this might delay your return home. Other than that, buses are the best option to move around Disney World. If you stay at Sports, this is the first resort on the bus tour coming from the parks, so you will actually get off before the people staying at Music or Movies.
ROOM RATES
One of the best things about Disney's All-Star Sports Resort is that it's one of the cheapest hotels on-site. Aaaaand, let's be honest, not the most popular one, so you will most likely find a room. Depending on the time of the year you visit Disney World, prices can range from 99UDS to around 200USD. This is definitely one of the resorts to choose if you are on a tight budget. We actually got a Gift of Magic offer for the room, and we paid 85USD per night. I know the All-Star Sports Resort is not necessarily a character experience hotel, such as All-Star Movies or Art of Animation, but there's still plenty of magic, especially if you're travelling with sports fans 🙂
With this, I complete my All-Star full tour, having stayed at the three of them 🙂 I know some people don't like the All-Star Resorts, but I always had an amazing time and I think it's up to what you make of your vacations, no matter where you stay.
If you have any questions or you'd like to share your own experience, please leave a comment below!