Disney's All-Star Music Resort is one of the best options for a comfortable stay, especially if you're on a tight budget but still want to enjoy Disney magic. On this review, I will show some cool pictures of the hotel, my opinion on the room rates, and some food and shop options inside the resort. For all music fans out there, this is the resort for you!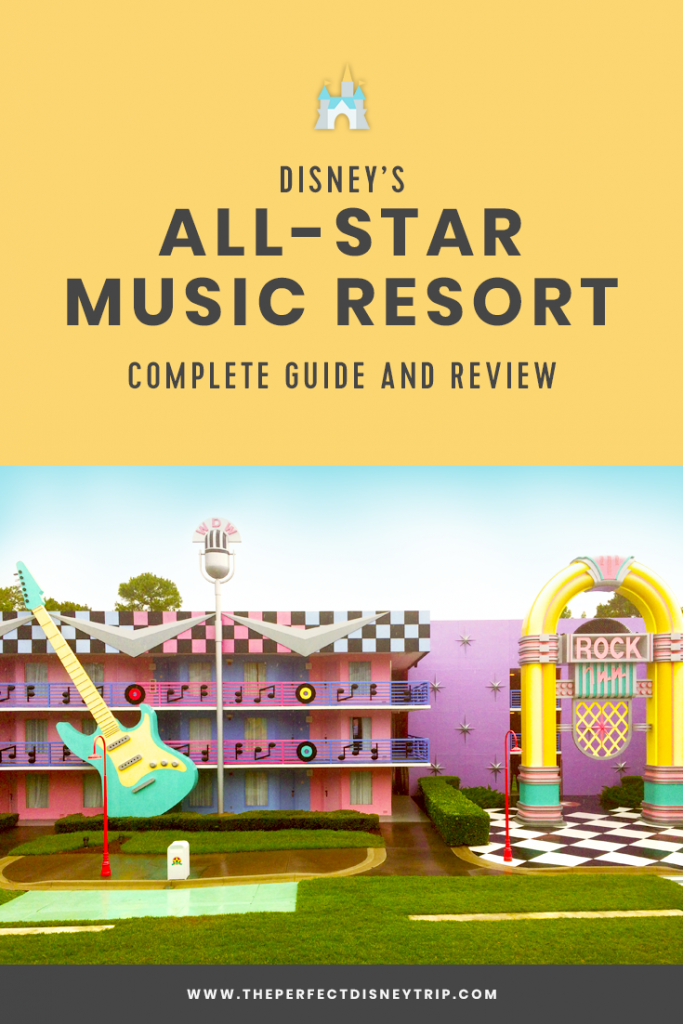 GENERAL
Disney's All-Star Music Resort opened in November 1994, and it was the second All-Star hotel to open its doors. Located in the Animal Kingdom area, this resort is inspired by different music genres that provide the theme for the 5 sections in the resort: Calypso, Rock, Broadway, Country, and Jazz. It's the only All-Star Resort to have family suites that can sleep up to 6 people. Let me tell you a bit more about this really cool hotel!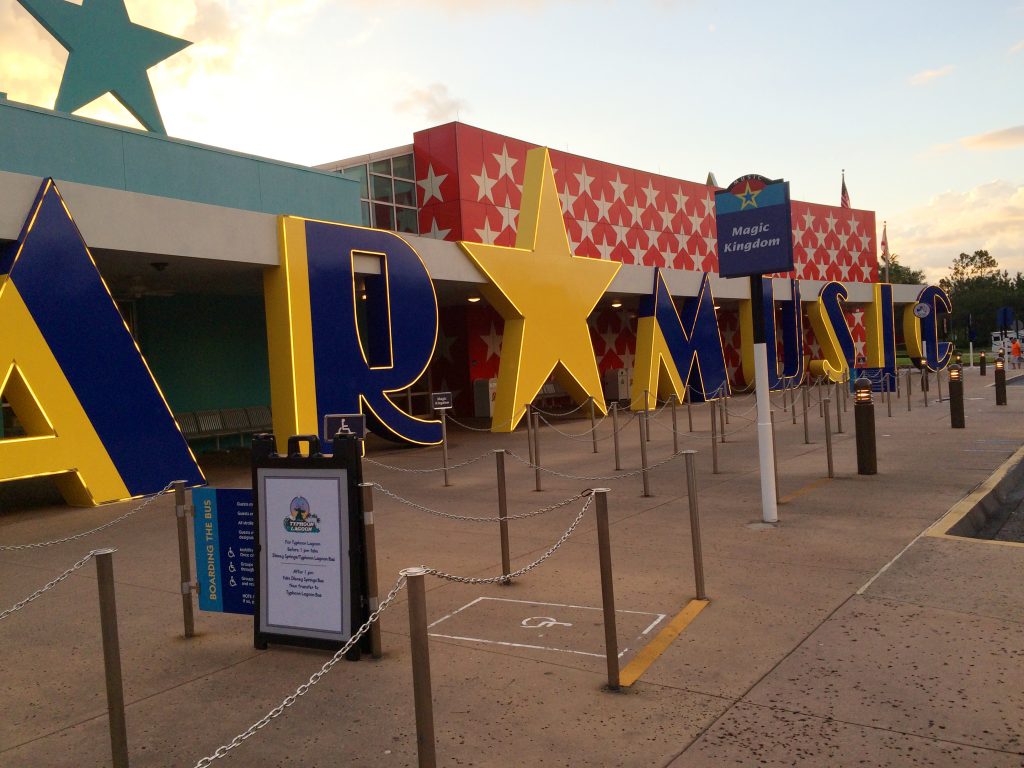 ROOMS
The first thing that caught my attention about Disney's All-Star Music Resort is the exterior of each building. What I love about this hotel is that each building plays the music of its own genre. This made me want to dance every time I walked through the grounds or on my walk to the dining hall.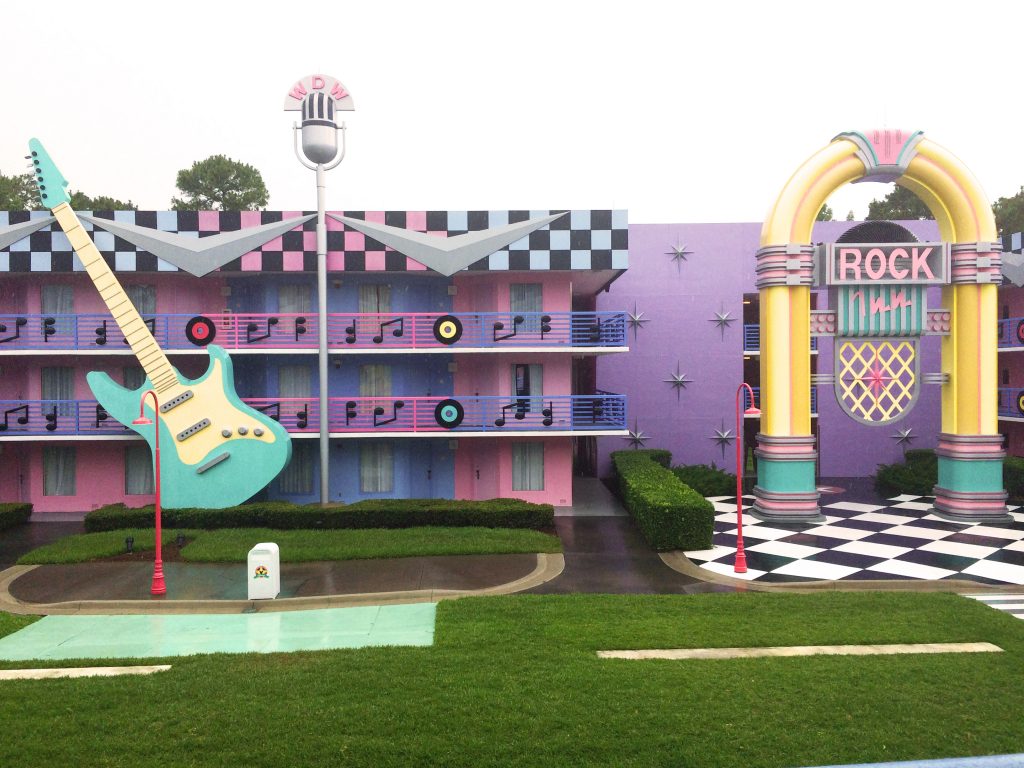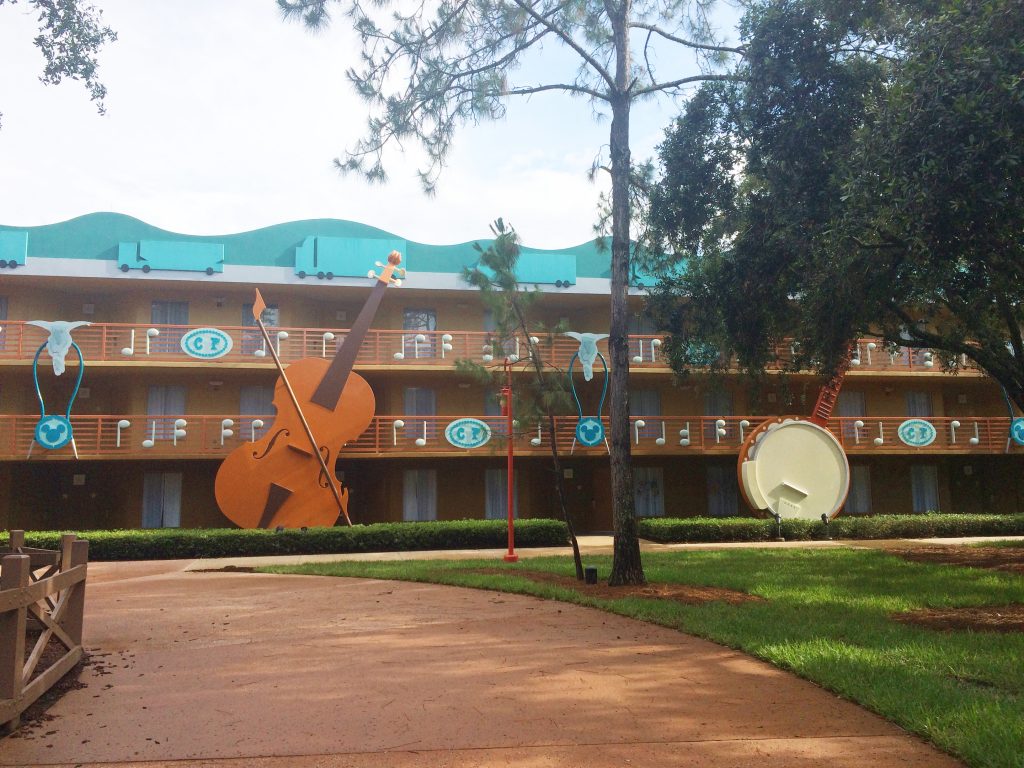 All the rooms at the All-Star resorts used to be pretty much the same inside, with a greenish paint tone and different wallpaper according to the theme of the hotel. As you may know, all value resorts (except for Disney's Art of Animation) have been or are being refurbished. All-Star Music hasn't started construction yet, but it's likely that when it does, the rooms will have the same look like the new ones in Pop Century's Resort and All-Star Movies: much more modern, painted white with some colored details on the walls.
The rooms at Disney's All-Star Music can accommodate up to 4 people in two double beds. Each room has a table with a couple of chairs, a TV, a phone, and a small fridge. The bathroom area has a sink and mirror, with a separate room for the bathtub and the toilet. In addition, you can find a hairdryer, a safe, and an ironing board. This is all you'll need during your vacation at Disney World, I promise 🙂
FOOD AND SHOPPING
If there's one thing I totally enjoy at Disney hotels is the food. Perhaps the All-Star resorts don't have the widest variety of food, like Pop or Art of Animation do, but they still have plenty of choices. Our breakfasts and dinners, which were the meals we always had at Disney's All-Star Music Resort, were perfect. You can find everything at the Intermission Food Court, from burgers to Mickey-shaped waffles. This hotel offers some delicious options for all guests to enjoy 🙂
Also, you can do your shopping at Maestro Mickey's, the gift shop inside the Melody Hall. And like in all other Resort gift shops, the one at Disney's All-Star Music Resort offers the standard Disney Parks merchandising and, of course, some specific merch from the All-Star hotels.
ENTERTAINMENT & AMENITIES
Like in all other Value Resorts, Disney's All-Star Music offers Movies Under the Stars, a playground, the Note'able Arcade, a jogging trail, and two pools. The Disney Magical Express is the complimentary transportation to and from Orlando International Aiport and there's bus transportation to and from the parks. The only problem here is that the All-Star resorts share the same bus from the parks to the hotel, so they are usually really crowded and this might delay your return home. Other than that, buses are the best option to move around Disney World.
ROOM RATES
One of the best things about Disney's All-Star Music Resort is that it's one of the cheapest hotels on-site. Depending on the time of the year you visit Disney World, prices can range from 99UDS to around 200USD. This is definitely the resort to choose if you are on a tight budget. I know the All-Star Music Resort is not necessarily a character experience hotel, such asAll-Star Movies or Art of Animation, but there's still plenty of magic. All these factors are suuuuuuuper important when you're planning your Disney trip, so that's what I believe it's important to mention them.
I know some people don't like the All-Star Resorts, but I always had an amazing time and All-Star Music was no exception. And I promise you could have an awesome time here as well!
If you have any questions or you'd like to share your own experience, please leave a comment below!